Body and Character: Somatic Experience in Psychoanalysis and Psychotherapy
Tid: Fredag 16. og lørdag 17. mars 2018 klokken 09:00 – 15:00 (registrering fra 08:30)
Sted: Haraldsheim, Haraldsheimveien 4, 0587 Oslo
Pris: 4 000 for deltagelse begge dager (3 000 for medlemmer og kandidater av instituttet) Lunsjbuffet og kaffe/te er inkludert.
This seminar will take a renewed look at Reich's theory of character and its application in clinical practice. It was Reich who first placed systematic attention to somatic experience and its nonverbal expression at the heart of the therapeutic process. Reich's primary attention was to the defensive function of character. In this seminar we will examine and experiment with the communicative and meaning-making aspects of character structures. The theoretical portions of the seminar will draw upon the work of D.W. Winnicott, Christopher Bollas, and Wilma Bucci to expand our understanding of character. Experiential exercises, case examples, and the reflections of participants will further deepen our modes of exploration and learning.
Program:
Day 1
Morning:
An Encounter with Character:
Character, communication, and countertransference—live demonstration with group discussion
Reich meets Winnicott: The affective edge and the interrupted gesture, expanding our understanding of character and its functions
Didactic with dyadic experiment
Afternoon:
Initiation and hesitation: further explorations in somatic countertransference
Didactic with small group experiential
Engagement and avoidance: The family body-there are never only 2 people in the therapeutic "dyad"
Guided fantasy, small group experiential, and full group discussion
Day 2
Morning:
The referential process: The relevance of Wilma Bucci's multiple code theory to somatic psychotherapy
Didactic with small group experiential work
The domains of experience: The integrative functions of a somatic orientation
Didactic with supervisory illustration
Afternoon:
Aggression, sexuality and excess: Why has somatic psychotherapy turned away from sexuality at the heart of the work?
Didactic with group discussion
Reflection and closure
Seminaret vil bli søkt godkjent av legeforeningen og psykologforeningen. Send påmelding til kontor@karakteranalyse.no, snarest og helst innen 15. februar 2018 (påmeldingen er bindende).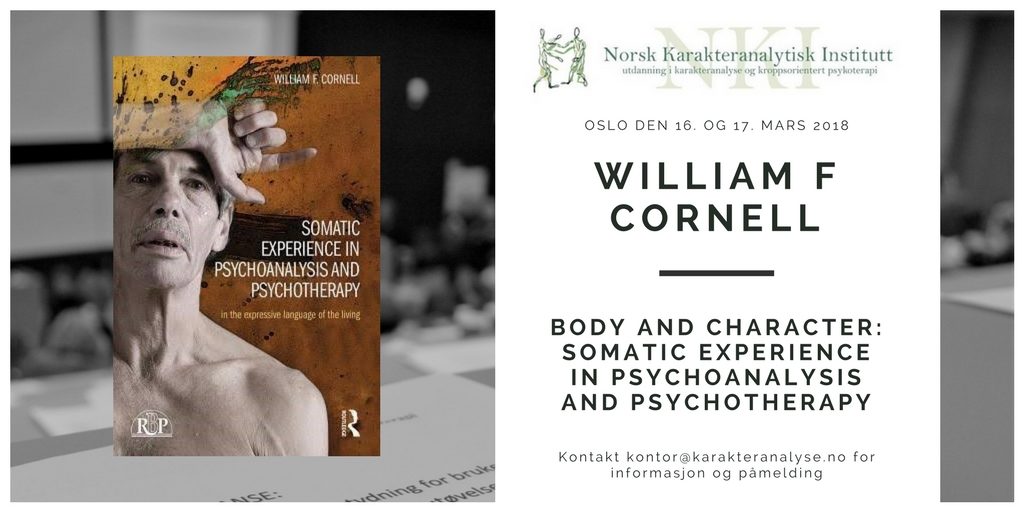 William F. Cornell, M.A., TSTA, maintains an independent practice of psychotherapy and consultation in Pittsburgh, Pennsylvania. Bill studied behavioral psychology at Reed College in Portland, Oregon and phenomenological psychology at Duquesne University in Pittsburgh, Pennsylvania. He followed his graduate studies with training in transactional analysis and Radix body-centered psychotherapy. Since those trainings, Bill has studied with several mentors and consultants within psychoanalytic perspectives. He introduced and edited The Healers Bent: Solitude and dialogue in the clinical encounter, the collected papers of James T. McLaughlin and Intimacy and Separateness in Psychoanalysis, a collected papers of Warren Poland. A co-editor of the Transactional Analysis Journal, Bill is the author of Explorations in Transactional Analysis: The Meech Lake Papers, Somatic Experience in Psychoanalysis and Psychotherapy: In the expressive language of the living, Une Vie Pour Etre Soi, and a co-author and editor of Into TA: A comprehensive textbook, as well as numerous articles and book chapters. He is the author of the forthcoming Countertransference and Subjectivity in Clinical Practice: Self-examination in psychoanalysis and psychotherapy to be published by Routledge and Further Explorations in Transactional Analysis: At the interface of TA, psychoanalysis, and body psychotherapy. He is a recipient of the Eric Berne Memorial Award and the European Association for Transactional Analysis Gold Medal, in recognition of his writing. Bill has been a central figure in the ongoing dialogue between communities of contemporary psychoanalysis and body psychotherapy.